Youth Tour
 A week to meet students from across the country, visit with Iowa legislators, tour the historic memorials and museums in our nation's capitol.
Apply now to be part of the 2022 National Rural Electric Cooperative Youth Tour!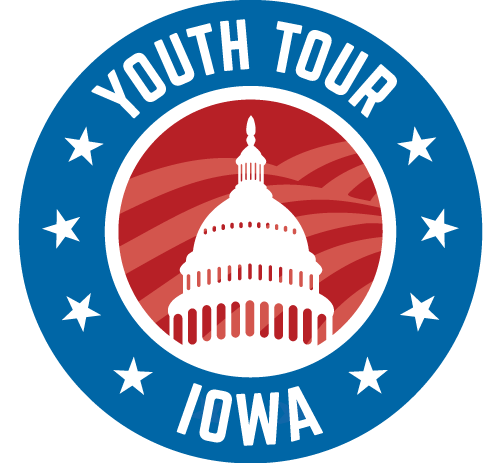 What is the Rural Electric Cooperative Youth Tour?
Every June since the 1950s, as many as 1,800 high school students from across the country spend a week in the nation's capital as part of the National Rural Electric Cooperative Youth Tour. The students are sponsored by electric cooperatives, like Pella Cooperative Electric, that are committed to educating America's rural youth about America and the role electric cooperatives play in developing strong rural communities.
Who can apply?
Pella Cooperative Electric sponsors one student each year who resides within the Pella Cooperative Electric service territory. This includes part of Jasper, Mahaska, Marion, and Poweshiek counties in Central Iowa.
When does it happen?
The 2022 Youth Tour is scheduled for the week of June 18-24!
What will you do?
Students will have a chance to learn more about electric cooperatives and American history and will come home with a great understanding of their role as an American citizen. They will also learn about the U.S. government and meet with their members of Congress. On the trip, students will also take in the sights of D.C. as they visit monuments, museums, and historical landmarks. Participating in the Youth Tour is an awesome way to learn about this great nation, develop leadership skills, and make friendships that will last beyond the week. Students who go on Youth Tour call it a trip of a lifetime!
Why do we sponsor students?
Giving back to our communities and investing in the next generation of leaders is part of every electric cooperative's mission.
Applications are currently closed for the 2022 Youth Tour.
COVID-19 Policies
Due to the ongoing Covid-19 pandemic, students will need to submit proof of a negative test taken 72 hours prior to departure (We will provide a home test and send to the student.)

Students will participate in daily temperature checks, hand sanitizer use, and will be provided disposable masks.

More info to come.