By Sarah Lindeman | Central College Intern
Pella Cooperative Electric kicked off 2021 hosting interns from Central College. Chloe Howell and Sarah Lindeman participated in Central College's 2021 Career Kickstarter program. The Career Kickstarter includes a micro-internship which they completed with the co-op January 12-14. Here's some insight on who they are and some of their experiences at PCEA.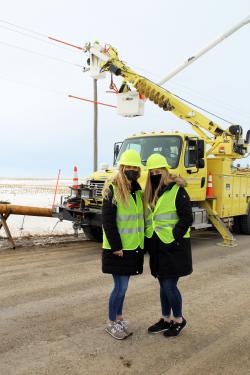 What is your major?
Sarah: Communications with a minor in Spanish.
Chloe: Accounting and Business Management.
What did you do here at Pella Cooperative Electric?
Sarah: I wrote and recorded radio ads, worked on social media posts, went out to watch the linemen replace a pole and learn what they do, wrote this portion of the newsletter, etc.
Chloe: I wrote and recorded radio ads, went out to watch the linemen replace a pole, learned more about Accounting from Doug, and updated rate sheets.
What was your favorite part of your micro-internship?
Sarah: My favorite part of this internship was learning so much in general. Whether that be about co-ops, the communications side of things, some of the history of Pella Cooperative Electric, how the linemen do things. I really enjoyed learning about everything Pella Cooperative Electric was doing.
Chloe: I thought it was really fun to meet everybody because everybody is really close and very nice. It was exciting to get to learn more about what a future career avenue could look like for me.
What was something that surprised you about the internship?
Sarah: What surprised me the most was how much Pella Cooperative Electric feels like a family. From the CEO to the linemen everyone is so kind and genuinely seems to care about one another.
Chloe: I didn't really realize how much I would actually be doing. Everyday I've been busy doing things all the time which I've really enjoyed.