The largest solar farm in Iowa, Wapello Solar sitting at 100 MWAC, is now operating and sending electrons down the line to CIPCO members. Representatives from Pella Cooperative Electric's power provider, Central Iowa Power Cooperative (CIPCO), Clēnera, LLC, and RES (Renewable Energy Systems), marked the official opening of Wapello Solar, LLC, with a ribbon cutting ceremony on April 9.
PCEA Board Members Duane Ver Ploeg, Bryce Arkema, Carroll Hoksbergen, Bob Van Soelen, Darrell Boot and CEO Jon Miles attended the ceremony. Also in attendance were Iowa Lt. Governor Adam Gregg, Senator Joni Ernst, and Representative Mariannette Miller-Meeks, landowners, local officials, and energy industry leaders. PCEA Board President Ver Ploeg represents PCEA on the CIPCO Board of Directors as the Asst. Secretary-Treasurer.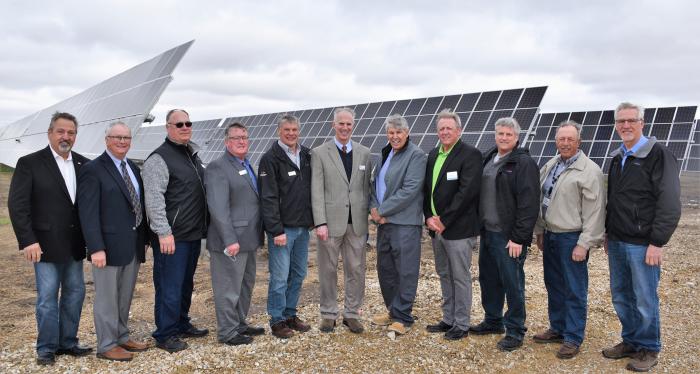 CIPCO's board members pose with CIPCO Executive Vice President & CEO Bill Cherrier. PCEA Board President Duane Ver Ploeg serves as the CIPCO Board Asst. Secretary-Treasurer - he is pictured fifth from the left.